A random review of the year....
This has been a busy year for many, and certainly one we will remember less and less as the seconds of 2007 tick by.
Here are some of the things we aren't likely to be bothered about once the hangover has gone.
In politics, the US republican party was decimated by some "pansy-ass french loving liberals", which goes someway to prove to the world that most Americans actually aren't "dumb-ass war loving conservatives". Hats off to you!
A particular highlight of this was Mr Ted Haggard, who managed to combine being a conservative evangelical Christian leader, with being a drug-and-prostitute-using gay-boy.
"Hey everybody, Jesus wants you to take crystal meth!"
Quite impressive. For some reason, American Christians thought that was contradictory.
Kofi Annan gave his final speech for the UN, and used the occasion to heavily criticise US foreign policy.
Apparently "really angry" about his most profitable market being insulted, U2 singer Bono Vox, retaliated in an address from his evil headquarters, in which he called Mr Annan a "shit", before firing missiles into the UN headquarters.
UN headquarters in NY, after U2's attack.
What else? Some good news? Evo Morales! The best combination of socialism and sweaters the world has ever seen.
"Legendary" boy band "take that", pictured below made a comeback with a new album.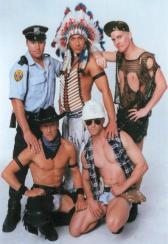 The press interest was so small, that no newspapers commented on how the whole 70 minutes was filled with "the gay one" shouting Robbie Williams' name, and calling him a bum-face.
I learnt that the only world-leading British companies sell arms and drugs: Britain "we get you fucked up, then we fuck you up".
And then Tony Blair goes around telling the world how dangerous Iran is, "aren't they naughty, lets single them out as baddies, because then they'll change their bad ways"... while at the same time, deciding to renew Britain's nuclear weapons, and selling billions of pounds worth of fighter jets to Saudi Arabia.
I'm confused. I thought Iran was the democracy, and Saudi Arabia the monarchy. What sort of messages are we sending out here?
Back to the important world of celebrity.. I know we all recognised a little of ourselves in Mel Gibson, with his drink fuelled anti-semitic rant. I may be a nice liberal person at heart, but give me a beer, and I start actually trying to burn "the Jews". It's just a natural response to alcohol, anti-semitism. You might think it makes you feel dizzy, fall over, even vomit on occasion; but no, what it actually does is turn you into a right wing conservative fascist.
A real fuckwit:
Does anyone really believe that the "disease" of alcoholism is an excuse for this type of behaviour? Who really changes that much? When I'm drunk, I'd quite like to punch Bono, for example... but I also feel that way when I'm sober. So I have this feeling that Mr Gibson is actually anti-semitic at heart, it's just when he's drunk he forgets that it's offensive and wrong. Alcohol just exposes him as the dick head that he is.
And James Brown has died... "take it to the bridge".
...that was written with little thought, and I know much more important things have happened... oops.
..some things I appreciated in 2006...
Leonid Tsypkin "Summer in Baden Baden"
Zero db "bongos bleeps and basslines"
Battles "BEP/EPC"
Jimi Edgar "color strip"
Phoenix Wright: Ace Attourney! (nintendo ds)